EPS Thermocol Pipe Section for Heat and Cold Insulation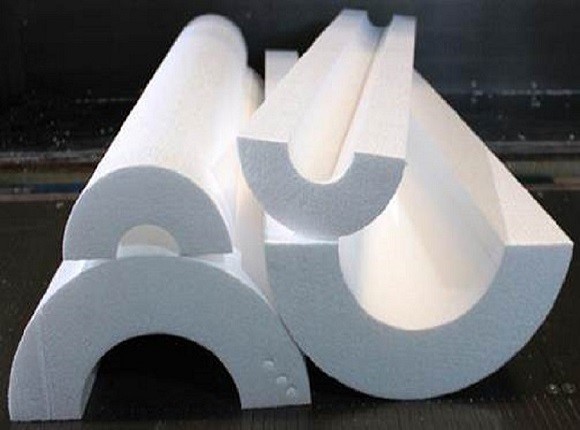 Scope of application: Due to the physical and thermal properties of the expanded polystyrene (EPS) pipe section, it is widely used as an insulation material for the insulation of chilled water pipes and channels, thus preventing condensation and protecting against freezing.
In addition, EPS pipe sections are widely used to insulate refrigerant pipes and other utility lines, especially in MEP (Mechanical Electrical and Plumbing) projects and HVAC (Heating Ventilation, and Air Conditioning) projects to prevent loss of cooling and condensation of the entire system. As a general rule, the efficiency of refrigeration equipment will obviously depend on the quality and reliability of the insulation material used. Under such circumstances, EPS pipe insulation dictates that it is nothing but the best insulation material.
For over 50 years, EPS pipe insulation has established a strong position as an insulation material in chemical plants, textile and paper mills, ice factories, dairies, breweries, heating, ventilation, and air conditioning systems (HVAC) and all types of MEP systems (mechanical, electrical and plumbing).
Why EPS Pipe Sections are Considered the Best Material for Insulation?
From an engineering and economic point of view, it is often advisable or even necessary to protect piping from heat loss and condensation. Low thermal conductivity, low water vapor permeability, low water absorption, high dimensional stability, good mechanical strength, and protection against fire risks are aspects that will make an insulating material ideal.
EPS – The expanded polystyrene pipes profile combines all these aspects well and is therefore particularly effective. Thermocol pipe sections are 95% closed cells which provide better insulation.
The EPS pipe section helps to prevent mould, fungal or parasitic infections and is unaffected by any bacteria, making it an ideal choice for pipe and duct insulation operating in areas such as the food industry, etc., where the highest level of hygiene is mandatory.
Expanded polystyrene pipe profiles are made "to order" according to customer dimensions and specifications. Can be cut with Shiplap joints and ridges using high-tech CAD/CAM – CNC machines. Typically, thermocol pipe sections are cut into halves with pre-wrapped foil-reinforced kraft (FRK) to simplify on-site installation.
Basic information that must be provided to place an order:
• Nominal pipe diameter
• Insulation thickness
• Insulation density
• Quantity in linear meters
Applications of EPACK Pipe Insulation
Hot pipe insulation
Cold pipe insulation
MEP work
HVAC
Benefits of Pipe Insulation with EPS THERMOCOL:
Sustainable
Eco friendly
Low-cost high protection
Flexible to cut any size & shape
How to Place an Order for Pipe Section?
Thermocol pipe sections can be ordered by providing the following basic information or you can call/email us with your requirements with application temperature and other details to recommend a suitable one. The website is www.thermocolinsulation.com and the email id is sales@epackindia.com