EPS Geofoam Blocks for Lightweight Filling or Construction on Soft Ground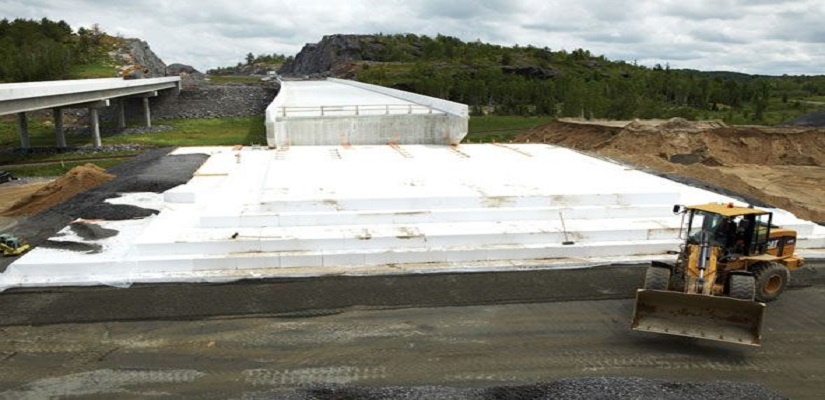 Geofoam is expanded polystyrene (EPS) manufactured into large lightweight, easily handled, pre-cut, customizable structural blocks that are unaffected by weather, and with insulating and noise reduction characteristics. The primary function of geofoam is to provide a lightweight void filler below highways, bridge approaches, embankments, plaza decks, or parking lots.
EPS Geofoam are used to reduce or settlement on underground utilities and can be used in more broader applications, for example lightweight fill, floor rise changes, green rooftop fill, landscaping, uniform slope adjustment, and decreased waste frameworks. Geofoam is made with insect repelling borates, available in various designs to deal with hydrostatic, soil, or seismic weights, and gases, for example, radon.
EPACK EPS Geofoam gives practical arrangements where traditional construction strategies have failed or indicated unsatisfactory execution. Not at all like traditional engineering and construction rehearses that work to oppose the powers of nature, geofoam is intended to work with them. Geofoam's prosperity gets from the way that usually more savvy to lessen the powers following up on a structure or foundation soil than it is to reinforce them to withstand the powers that would exist without geofoam substitution.
EPS Geofoam Blocks are manufactured in our advanced manufacturing facilities, with cutting edge equipment. This guarantees reliable physical properties in every individual EPS Geofoam Block that make up a common EPS Geofoam fill framework. Compared with other lightweight fill materials, for example, tires, wood chips and foamed cement can be shifted and conflicting in the makeup of their fill. Using different items can result in a non-uniform load transfer, differential settlement, leachates and conceivable flame dangers.
EPS Geofoam Applications:
EPACK EPS Geofoam is a versatile material that provides innovative solutions to many common, and not so common, geotechnical challenges. A cost-effective alternative to traditional construction practices, EPS geofoam has documented benefits in the following applications:
Bridge Approach Fill
Slope Stabilization
Earth Retaining Structures
Plaza Decks
Structural Foundations
Compressible Inclusions
Dikes/Berms/Levees
Landscape Fill
Insulation/Frost Protection